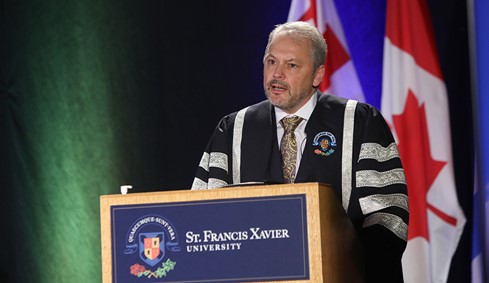 We have been given the opportunity to share this wonderful story of ex-ACHS student Dr. Andy Hakin and his fantastic career and associated achievements.
Dr. Hakin was a student at ACHS in the 1980s; he studied chemistry under Mr Watson and was inspired to continue his journey in further education.
Dr. Hakin recently became the President and Vice Chancellor of St Francis Xavier University in Nova Scotia, Canada - a very proud moment for Andy's family and of course for ACHS.
Here is an extract from the website of St Francis Xavier University about Dr. Hakin's career and achievements.
Dr. Andy Hakin
Dr. Hakin, a native of the north of England, travelled south for his undergraduate degree, to the University of Leicester in the East Midlands. He stayed at Leicester to complete his doctoral studies in physical chemistry in 1987 – and left with both his terminal degree and his partner, Linda (also a Leicester graduate.)
Following a postdoctoral fellowship at the University of Alberta, the Hakin's moved to the University of Lethbridge in 1989. Dr.Hakin's academic trajectory reveals a life spent in service to academic and intellectual inquiry, as well as a desire to contribute to the underpinning systems of academia. After five years as an assistant professor of chemistry, Andy was promoted to associate professor in 1994, and then to full professor in 2003. He was the winner of the U of L distinguished teaching awards.
As a researcher, Dr. Hakin spent years investigating the thermodynamics of aqueous protein systems – particularly, the effect of temperature and pressure on those systems. He's conducted work in biotechnology, bioremediation, and enzymes and proteins. Dr. Hakin received Lethbridge's Distinguished Teacher Award in 2000, the Stig Sunner Memorial Award for research achievement from the International Calorimetry Conference and is a member of the Royal Society of Chemistry.
He became the President of the Faculty Association of the University of Lethbridge in 2001, and after earning the rank of Full Professor, shifted towards the administrative branch of the university. He served as the Provost and Academic Vice-President at Lethbridge from 2007 until 2020 and became known as a champion of diversity and inclusion. His work was recognised by the Blackfoot people in a special naming ceremony at Homecoming in 2017; he was dubbed Linniowmoowakima, which means "Herding the Buffalo."
As an administrator, Dr. Hakin led the charge in Lethbridge to become a "destination university;" he worked to create a strong undergraduate and graduate academic experience, boosted academic programming, and increased domestic and international enrolment.
Beyond the university, Dr. Hakin has devoted significant time to several organisations, particularly the Sinneave Family Foundation, which is dedicated to building successful futures for adolescents and adults living with Autism Spectrum Disorders.